Advanced Technology: Flyingvoice Launches New IP Phones
Shenzhen, China - March 24th 2023 - Flyingvoice, a leading provider of communication solutions, has once again released new products to meet the diverse needs of businesses. On 24 March 2023, Flyingvoice announced the release of its latest IP Phones - the the P20, P20P, P20G, P21, P21P and P22G.
Like their previous products, the P20, P20P, P20G, P21, P21P and P22G IP Phones have been designed with innovation and practicality in mind. These new IP Phones feature advanced technology that allows users to communicate and collaborate more efficiently than ever before.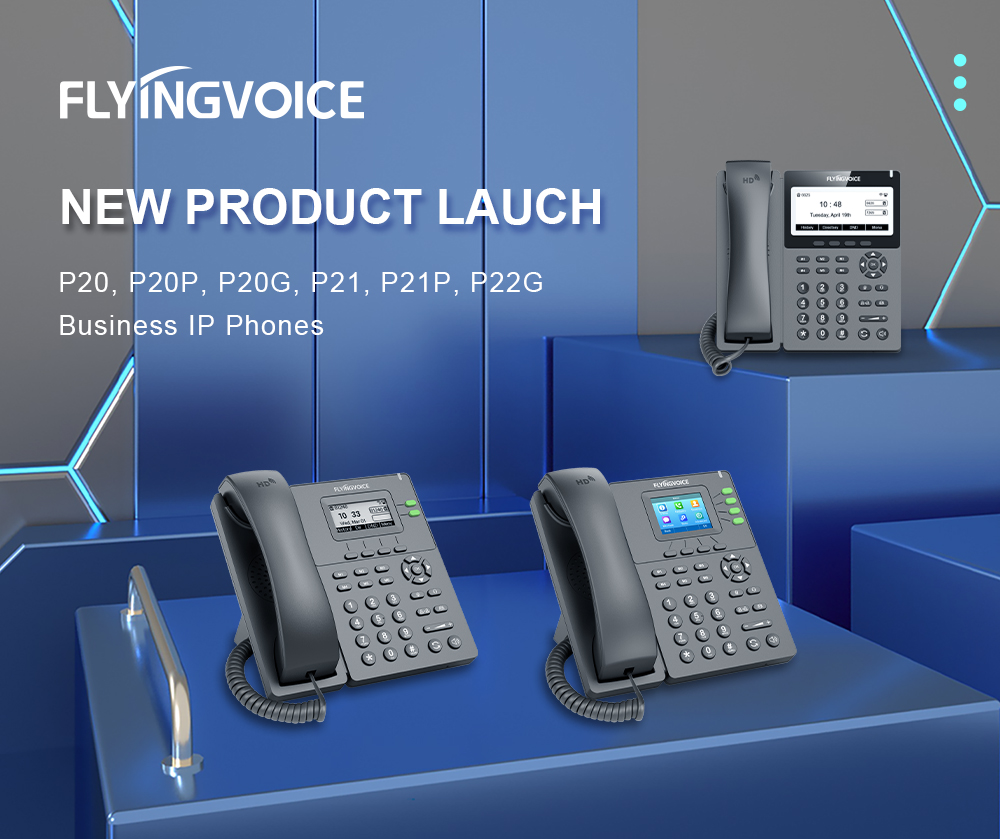 HD Voice, Better Calls
Supporting the Opus wideband codec with advanced echo cancellation and intelligent noise reduction technology, the new products provide users with high-definition voice for improved call quality.
Wireless Networking, Flexible Choice
New products include an integrated 2.4GHz WiFi and PoE module to meet the office needs of corporate wired and wireless network access.
USB Extension for Versatile Applications
These new models integrate USB2.0 interface, supporting USB flash drive, EHS10 adapter, Bluetooth dongle, realising USB recording function, and DECT wireless headset, Bluetooth wireless headset, providing users with more wireless office services.
Simple Installation, Easy Deployment
With online platforms such as FACS and FRPS and auto-provisioning modes FTP/TFTP/HTTP/HTTPS/TR069, new models can be easily deployed and managed, significantly reducing operation and maintenance time.
6-Way Audio Conferencing & Web Conferencing
Simplify communication and achieve better collaboration with 6-way audio conferencing & web conferencing.
About Flyingvoice
Flyingvoice is a leading supplier of communication terminal devices and VoIP one-stop solutions, providing VoIP phones, ATAs, Gateways and Routers for business and home. We are aiming to empower small, medium and micro enterprises, solving the problem of "easy to buy but difficult to use" in network and communication, and are committed to providing wireless IP office solutions with integrated voice and data for SMEs. For additional information, please visit www.flyingvoice.com, and follow Flyingvoice on LinkedIn or Facebook.
---
If you have any interest or questions, please contact our sales team (sales@flyingvoice.com), thanks.