New Launch of P2X Series IP Phones and The HP200 Headphones
Shenzhen, China – February 28th, 2023 - As a high-quality provider of communication solution, Flyingvoice strives to meet the diverse needs of enterprises. On February 28, 2023, Flyingvoice officially released the new P2X series IP Phones and the HP200 Headphones.
The new P2X series IP Phones has a renewed and innovative appearance, upgraded chip, and richer functions making your communication easier and realize a better collaboration.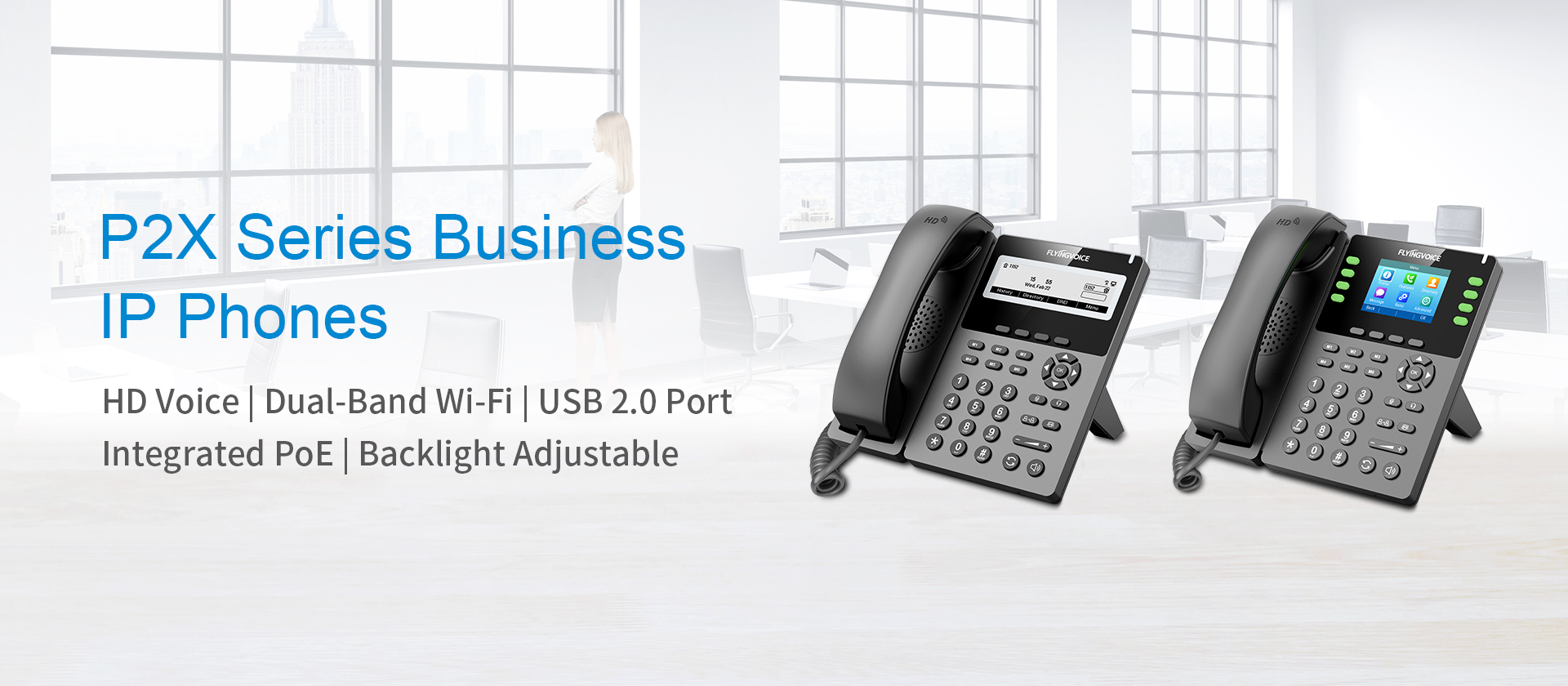 Excellent HD Voice Quality
Wideband G.722 and Opus are supported. Equipped with HD voice handset and speaker, and support for connecting RJ9 headset, you can have clear VoIP calls even in noisy places.
Dual-Band Wi-Fi, Advanced Wireless Connectivity
Supports both 2.4 GHz and 5 GHz Wi-Fi, with no wiring required which is flexible to deploy for users to enjoy the convenience of wireless office.
6-Way Audio Conferencing & Web Conferencing
Support 6-Way Audio Conferencing & Web Conferencing, making your communication easier and realize a better collaboration.
USB Expanded Functions
The Built-in USB 2.0 ports on the phone allow you to record important calls via USB disks, and connect DECT wireless headsets, Bluetooth dongle and access to call which gives you more freedom to connect your business.
New Stand, More Stable Wall Mounting
The angle adjustable and wall-mountable
stand, supports 45-degree placement on the desktop and 15-degree installation on the wall, meeting your various demands for a neat environment.
Online management Platforms, Easy Configuration
It can be configured online with the platform FRPS and FACS, and also supports various automatic deployment methods of FTP, TFTP, HTTP, HTTPS, TR069 protocols, etc. saving on your operation and maintenance time as much as possible.
HP200 is a headset designed for office worker with ultra-light appearance, wideband audio and flexible Plug-and-Play connectivity, which can easily match with Flyingvoice P2X series IP phones, it delivers clearer conversation and offer a more professional customer experience on every call.
About Flyingvoice
Flyingvoice is a leading supplier of communication terminal devices and VoIP one-stop solutions, providing VoIP phones, ATAs, Gateways and Routers for business and home. We are aiming to empower small, medium and micro enterprises, solving the problem of "easy to buy but difficult to use" in network and communication, and are committed to providing wireless IP office solutions with integrated voice and data for SMEs. For additional information, please visit www.flyingvoice.com, and follow Flyingvoice on LinkedIn or Facebook.
---
If you have any interest or questions, please contact our sales team (sales@flyingvoice.com), thanks.