Make your Cloud PBX Reliable through Stand-Alone Survivability
The FTA5120's Stand-Alone Survivability (SAS) feature ensures telephony communication continuity (survivability) for enterprises using hosted IP services (such as IP Centrex) or IPPBX in cases of failure of these entities.
In case of failure of the IP Centrex, IP-PBX servers (or even WAN connection and access Internet modem), the enterprise typically loses its internal telephony service at any branch, between its offices, and with the external environment.
Typically, these failures also lead to the inability to make emergency calls (e.g., 911 in North America). Despite these possible points of failure, the FTA5120's SAS feature ensures that the enterprise's telephony services (e.g., SIP IP phones or soft phones) are maintained, by routing calls to the PSTN (i.e., providing PSTN fallback).
Normal State
In normal state, FTA5120 receives REGISTER requests from the FIP1X IP Phones and forwards them to the external proxy normally.
Emergency State
When a connection with the external proxy fails (detected by the device's keep-alive messages), the FTA5120 enters SAS emergency state. The FTA5120 serves as a proxy for the IP Phones, by handling internal call routing of the IP Phones (within the LAN enterprise).
When emergency state is active, SAS continuously attempts to communicate with the external proxy, using keep-alive SIP OPTIONS. Once connection to the proxy returns, the device exits SAS emergency state and returns to SAS normal state.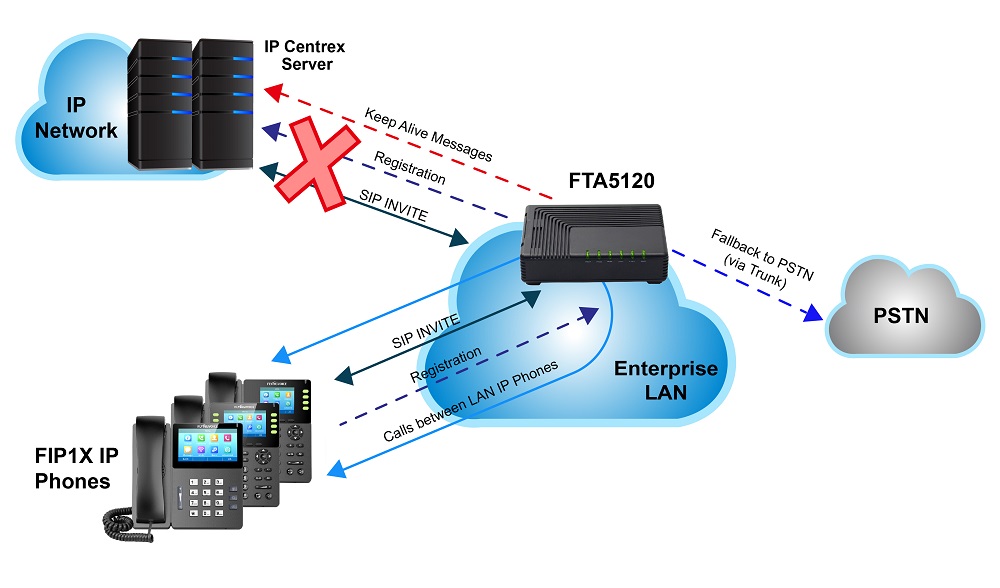 Related Products