FIP15G Plus
Elite Touch Screen IP Phone
Flyingvoice FIP15G Plus is a premium communication tool for executives and professionals who want to improve business efficiency. The phone adopts a brand-new quad-core processor and a 4.3-inch IPS touchable display to provide an intuitive interface and a better viewing experience for users. Featuring improved mobility features such as built-in dual-band Wi-Fi and Bluetooth, and dual USB ports, the FIP15G Plus allows you to effectively manage calls for easy remote collaboration. Moreover, it includes Wideband Codec G.722 and Opus to ensure HD voice quality in every call for a better calling experience.
Elegant Touchable Screen
Flyingvoice FIP15G Plus features a 4.3-inch IPS touchable display that provides a broad visual angle, HD images in full-color saturation to catch more details, and a concise user interface for easy operation.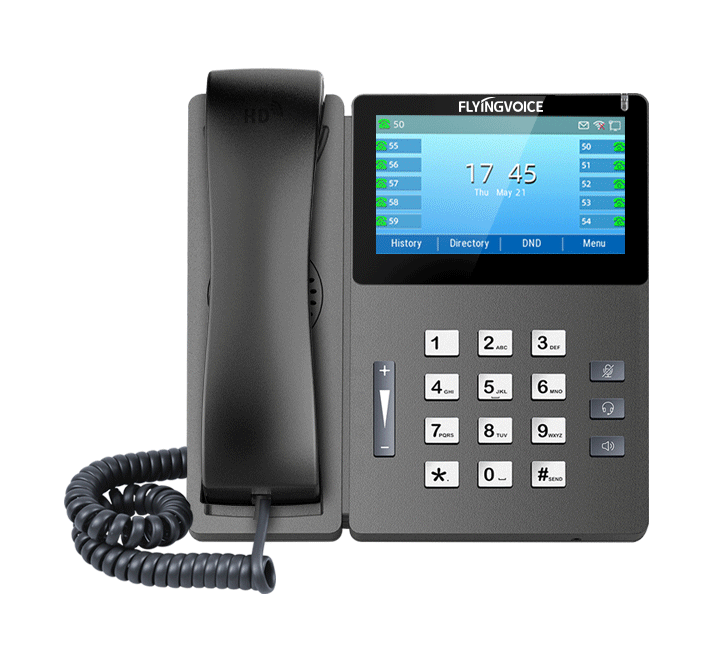 A New Quad-core Processor
Based on a brand-new quad-core processor, the FIP15G Plus can run faster and more smoothly in any application, bringing more convenience to users.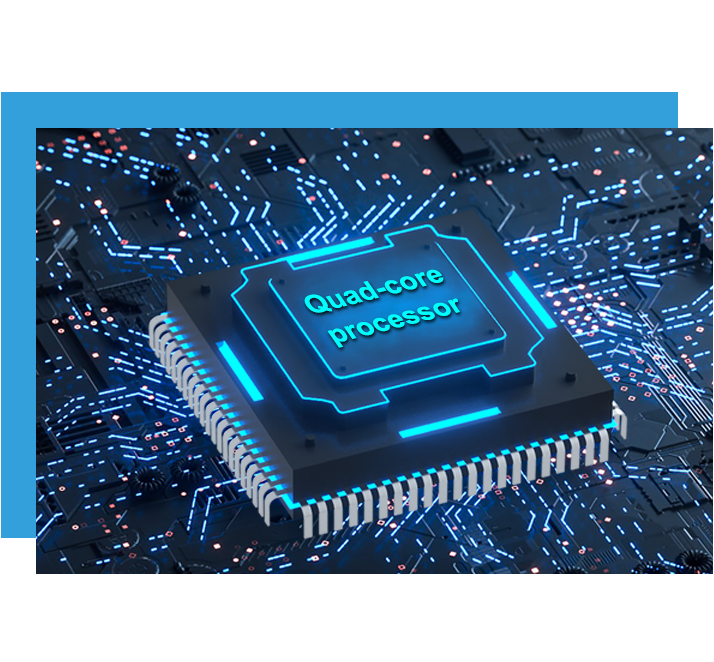 Advanced Wireless Connectivity
FIP15G Plus not only supports Bluetooth wireless headsets with the built-in Bluetooth 4.2, but also delivers strong Wi-Fi connectivity with the built-in dual-band 2.4G&5G Wi-Fi, allowing you to handily access the 5G Wi-Fi connectivity for high-quality calls.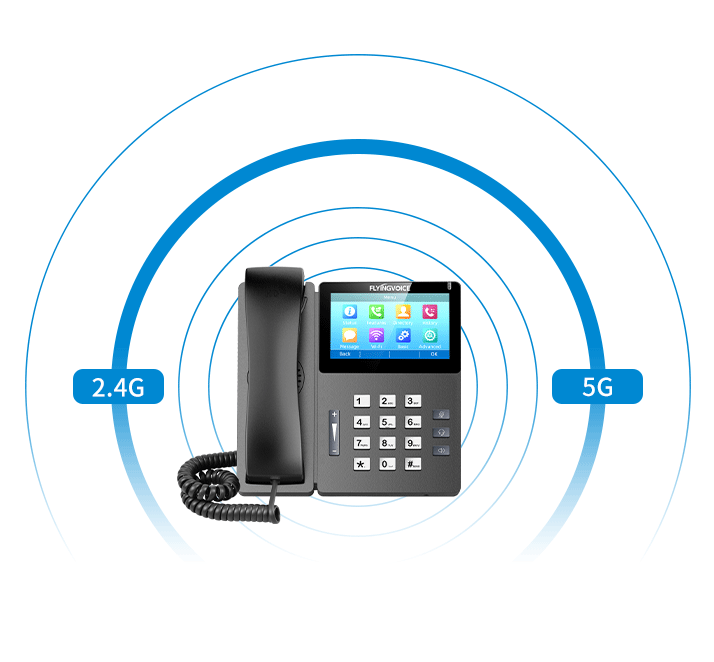 USB Expanded Functions
The Built-in dual USB ports on the phone allow you to record important calls via USB disks, and connect DECT wireless headsets with EHS10 headset adapters, which gives you more freedom to connect your business.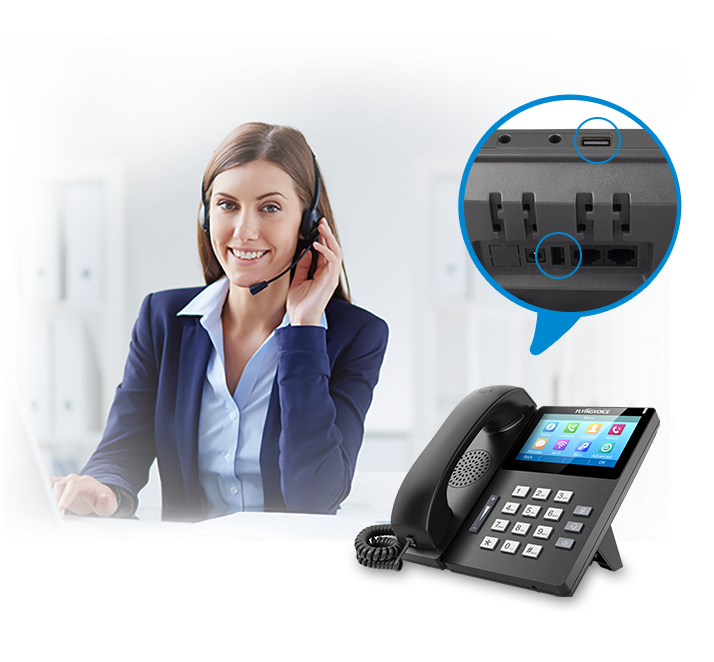 HD Voice Quality
Delivering crystal clear voice even in a noisy environment with advanced voice technologies including Wideband Codec G.722, Opus, Acoustic Shield and ANC. Meanwhile, the FIP15G Plus supports 6-way audio conferencing for better remote collaboration.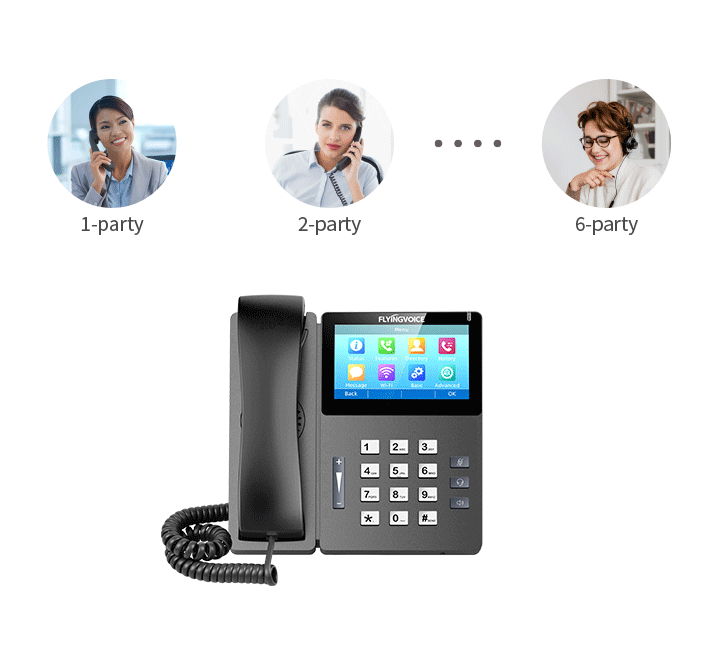 Powerful Online Management Systems
FIP15G Plus can be simple to deploy and manage by Flyingvoice's online platforms such as FACS and FRPS and auto-provisioning modes TFTP/HTTP/HTTPS, making mass deployment extremely easy.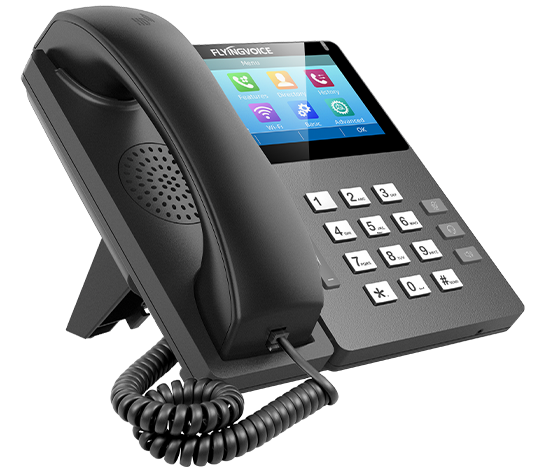 10 SIP Lines

4.3 Inch IPS touchable IPS Display, 64 programmable keys

Built-in 2.4G & 5G Wi-F

Built-in Bluetooth

Dual Gigabit Ethernet Ports, Integrated PoE

Dual USB ports for USB earphones, EHS10 headset adapter, USB disks for call recording

Supports wideband codec G.722, Opus, acoustic shield and ANC technologies

Phonebook 2000 records

Supports IPv4 and IPv6 protocols.