G508
8 FXS Gigabit VoIP Adapter
G508 is a portable adapter with rich functions, high cost performance, easy deployment and maintenance, which fully demonstrates the convenience of IP voice and data connection. It is an ideal choice for SOHO and small business applications.
Gigabit Ethernet Ports
2*10/100/1000M Ethernet ports support a theoretical maximum data rate of one gigabit per second (1,000 Mbps), which provides high-speed network connections to devices and smooth data transfer.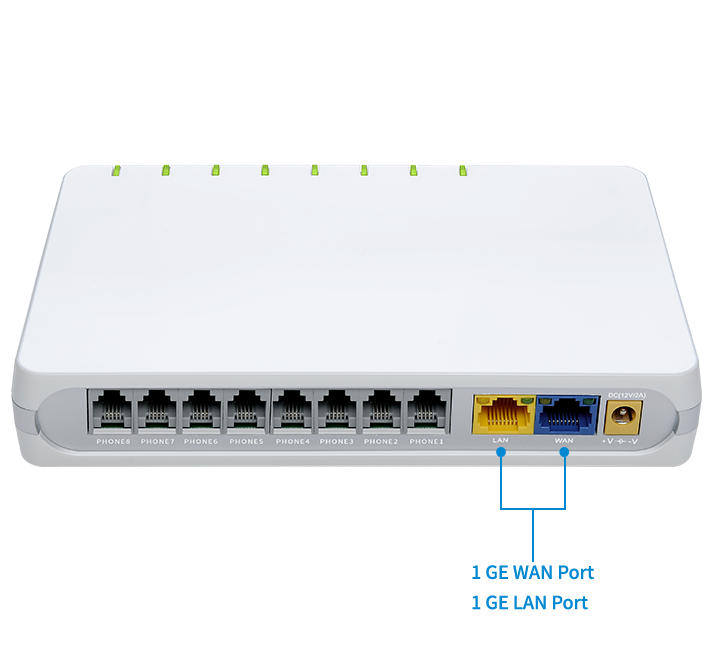 All-in-one Adapter
With 8 FXS ports, G508 can not only provide 8 SIP lines for users to make calls, but it is also a wire-speed NAT router, make you enjoy convenient and flexible network. It supports T.38, T.30 and G.711 fax standard, no additional purchase costs.
Stand-alone Device
G508 is a stand-alone device, which requires no PC to make Internet calls.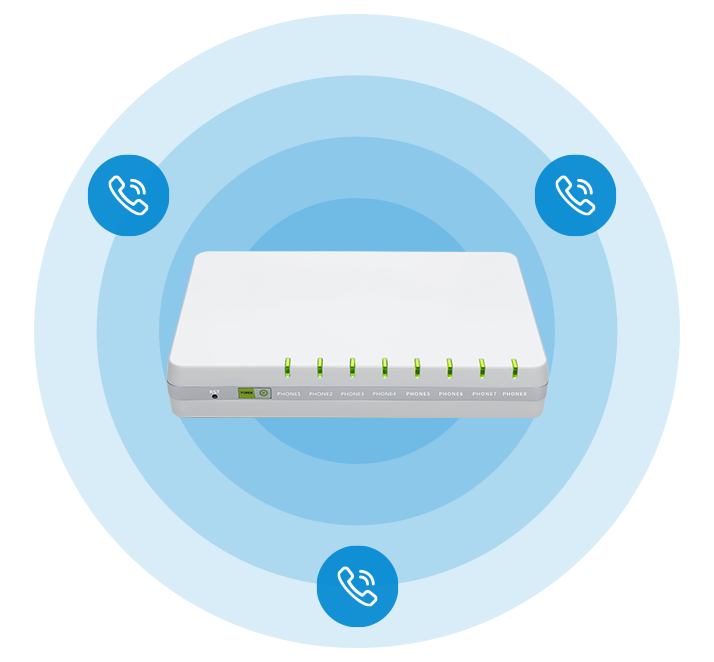 Broad Compatibility
The G508 is based on SIP V2 and compatible with most service providers, which brings great convenience when deploying VoIP network.
Easy Management
Equipped with advanced management protocols such as SNMP and TR069, which is easy to achieve unified deployment and centralized management.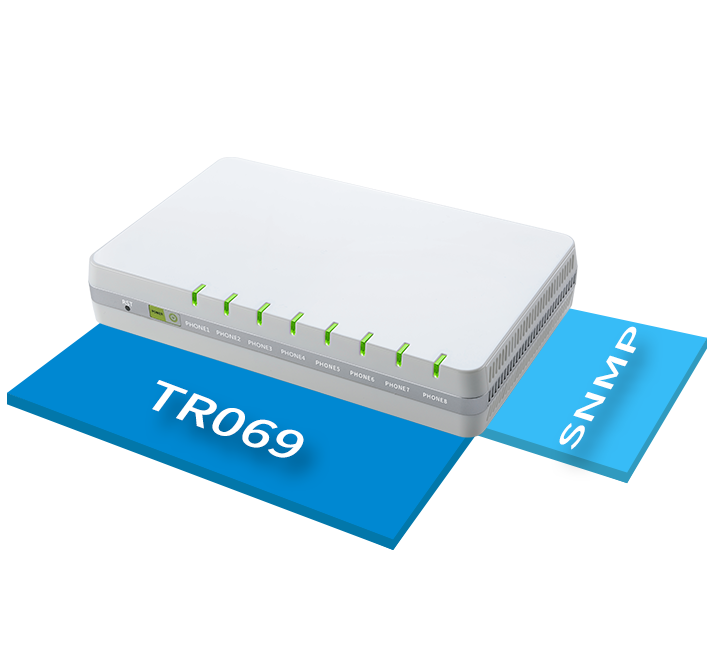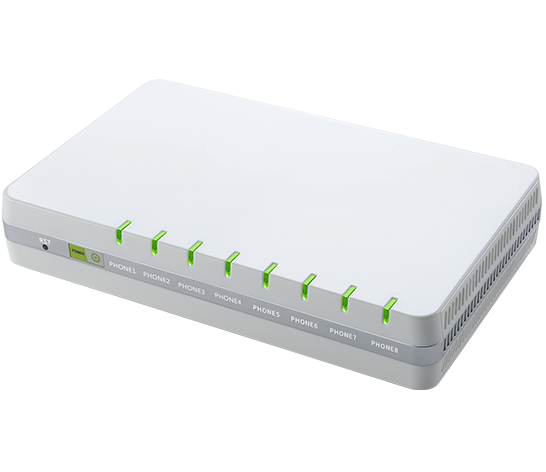 8 FXS Ports

8 SIP Accounts

2*10/100/1000 Mbps

Support T.38 & T.30

Support TR069 & SNMP

Support HNAT
FXS (RJ11)
FXO (RJ11)
SIP Account
Ethernet (RJ45)
Wi-Fi
2.4GHz Speed
USB Port
AP Mode
HNAT
DHCP
SNMP
TR069
VLAN
VPN
FAX
3-Way Conference
Voice Codec
SIP Protocol
Auto Provision
Web Management
| | FTA1101 | FTA5111 | FTA5120 | FTA5101 | FTA5102E2 | G504 | G508 | FGW4148-48S |
| --- | --- | --- | --- | --- | --- | --- | --- | --- |
| | | | | | | | | |
| FXS (RJ11) | 1 | 1 | X | 1 | 2 | 4 | 8 | |
| FXO (RJ11) | X | 1 | 2 | X | X | X | X | |
| SIP Account | 1 | 1 | X | 1 | 2 | 4 | 8 | |
| Ethernet (RJ45) | 2*10/100M | 3*10/100M | 3*10/100M | 3*10/100M | 3*10/100M | 2*10/100/1000M | 2*10/100/1000M | |
| Wi-Fi | √ | X | X | X | X | X | X | |
| 2.4GHz Speed | 300Mbps | X | X | X | X | X | X | |
| USB Port | 1 | X | X | X | X | X | X | |
| AP Mode | √ | X | X | X | X | X | X | |
| HNAT | X | X | X | X | X | √ | √ | |
| DHCP | Client/Server | Client/Server | Client/Server | Client/Server | Client/Server | Client/Server | Client/Server | |
| SNMP | √ | √ | √ | √ | √ | √ | √ | |
| TR069 | √ | √ | √ | √ | √ | √ | √ | |
| VLAN | √ | √ | √ | √ | √ | √ | √ | |
| VPN | PPTP, L2TP, OpenVPN | PPTP, L2TP, OpenVPN | PPTP, L2TP, OpenVPN | PPTP, L2TP, OpenVPN | PPTP, L2TP, OpenVPN | PPTP, L2TP, OpenVPN | PPTP, L2TP, OpenVPN | |
| FAX | T.38, T.30 | T.38, T.30 | X | T.38, T.30 | T.38, T.30 | T.38, T.30 | T.38, T.30 | |
| 3-Way Conference | √ | √ | √ | √ | √ | √ | √ | |
| Voice Codec | G.722, G.711(A/u), G.723, G.729A/B, iLBC | G.722, G.711(A/u), G.723, G.729A/B, iLBC | G.722, G.711(A/u), G.723, G.729A/B, iLBC | G.722, G.711(A/u), G.723, G.729A/B, iLBC | G.722, G.711(A/u), G.723, G.729A/B, iLBC | G.722, G.711(A/u), G.723, G.729A/B, iLBC | G.722, G.711(A/u), G.723, G.729A/B, iLBC | |
| SIP Protocol | SIPV2.0 (RFC3261/3262/3263/3264) | SIPV2.0 (RFC3261/3262/3263/3264) | SIPV2.0 (RFC3261/3262/3263/3264) | SIPV2.0 (RFC3261/3262/3263/3264) | SIPV2.0 (RFC3261/3262/3263/3264) | SIPV2.0 (RFC3261/3262/3263/3264) | SIPV2.0 (RFC3261/3262/3263/3264) | |
| Auto Provision | TFTP, HTTP, HTTPS | TFTP, HTTP, HTTPS | TFTP, HTTP, HTTPS | TFTP, HTTP, HTTPS | TFTP, HTTP, HTTPS | TFTP, HTTP, HTTPS | TFTP, HTTP, HTTPS | |
| Web Management | √ | √ | √ | √ | √ | √ | √ | |