Flyingvoice's IP Phones Now Compliant with VoIP.ms Platform
Shenzhen, China and Montreal, Canada (June 23, 2021) - Flyingvoice, the leading provider of IP phone and IP communication solutions, today announced the successful interoperability testing with VoIP.ms, a provider of feature-rich VoIP services. As a result, Flyingvoice IP phones, including the FIP10(P), FIP11C(P), FIP12WP, FIP13G, FIP14G, FIP15G and FIP16 can now work seamlessly with VoIP.ms phone platform.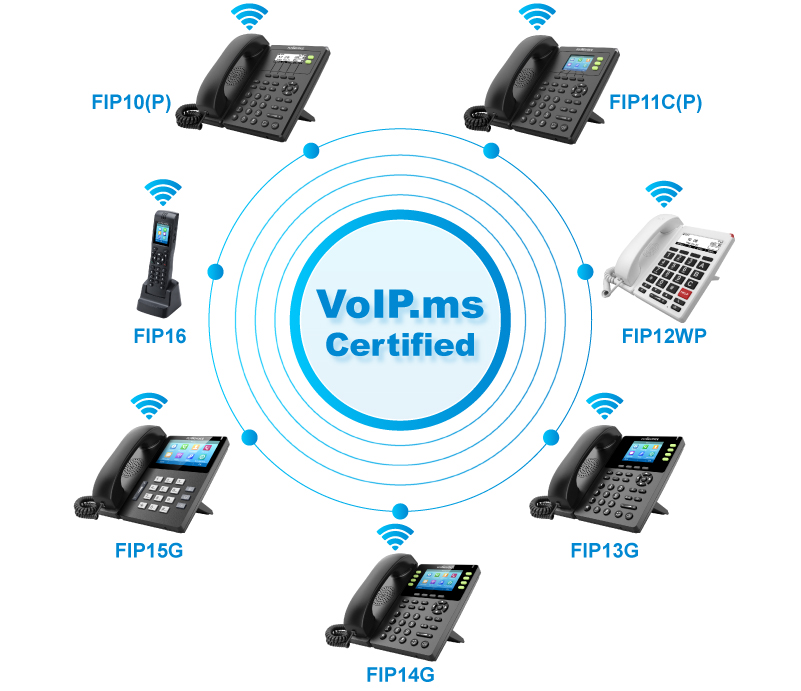 Flyingvoice offers a range of easy-to-use, feature-rich IP phones for businesses of all sizes and industries. The desktop IP phones can transform the wired signal into a wireless one, and vice versa. All of them support wireless connection that can help you to reduce cables and build wireless offices. More information about Flyingvoice IP phones can be found at our Product Page.
VoIP.ms offers a complete suite of self-serve cloud services including a Cloud PBX, SIP Trunking, Virtual Faxes, Virtual PRIs, and much more. Its offering is entirely contract-free and pay-as-you-go, allowing greater flexibility to its users. Customers can get started in a matter of a few minutes. VoIP.ms also allows customers to resell its services through a powerful SOAP & REST JSON API or through a fully white-label portal. To know more about VoIP.ms, please visit https://voip.ms.
"We are honored to cooperate with VoIP.ms." Raymond Fang, sales director of Flyingvoice said, "VoIP.ms phone system is feature-rich and widely used, we believe that we can work together to provide a high-quality call experience for our customers."
"We greatly value that Flyingvoice is fully certified with our services." David Rouleau, Chief Operating Officer at VoIP.ms said, "Partnering with Flyingvoice provides an additional venue for customers to receive the best service possible."
About VoIP.ms
VoIP.ms is a top-of-the-game Montreal-based Voice over IP (VoIP) company founded in 2007. VoIP.ms focuses on cloud communications and prides itself to be the most feature-rich VoIP provider. Its platform is used by over 80,000 customers namely cPanel, ICON Health & Fitness, Toys'R'Us and others. VoIP.ms offers an intuitive self-serve portal with a wide range of unified communication services including DID numbers in 60+ countries, call conferencing and SIP trunking all under a Bring-Your-Own-Device philosophy.
About Flyingvoice
Flyingvoice is a leading supplier of communication Terminal Devices and VoIP one-stop solutions, providing VoIP phones, ATAs and Routers for business and home. We are aiming to empower small, medium and micro enterprises, solving the problem of "easy to buy but difficult to use" in network and communication, and committed to providing wireless IP office solutions with integrated Voice and Data for SMEs. For additional information, please visit www.flyingvoice.com, follow Flyingvoice on LinkedIn or Facebook.