Flyingvoice Joins Phonesuite's SIP Phone Offering
Beijing, China and Broomfield, Colorado, USA (February 3, 2021) - Flyingvoice, a leading provider of communication terminal equipment and VoIP CPE one-stop solutions, and Phonesuite, a leading Hotel PBX system provider, today announced the certified interoperability between Flyingvoice IP phones and Phonesuite products. Under this new certification, Phonesuite PBX is now fully compatible with Flyingvoice FIP1X series IP phones including the FIP15G, FIP14G, FIP13G, FIP11C, FIP10, FIP16 models.
The open-architecture and innovative design of Phonesuite PBX have made it the preferred solution for Select, Full-Service and Luxury hotels. While, FIP1X series IP phones are easy to use and feature HD voice, high-quality and rich functions. Flyingvoice offers desktop IP phones for indoor use and portable IP phone FIP16 that can be used while moving around. The built-in Wi-Fi and AP mode features make them particularly suitable for hospitality businesses. The excellent interoperability between Flyingvoice IP phones and Phonesuite PBX allows hoteliers to build a flexible and scalable hotel phone system.
"We are excited to partner with Phonesuite" said Raymond, the Sales Director of Flyingvoice. "Flyingvoice and Phonesuite share the same goal to offer powerful and easy-to-deploy VoIP solution to hotel business. We are looking forward to a very long and mutually beneficial relationship with Phonesuite."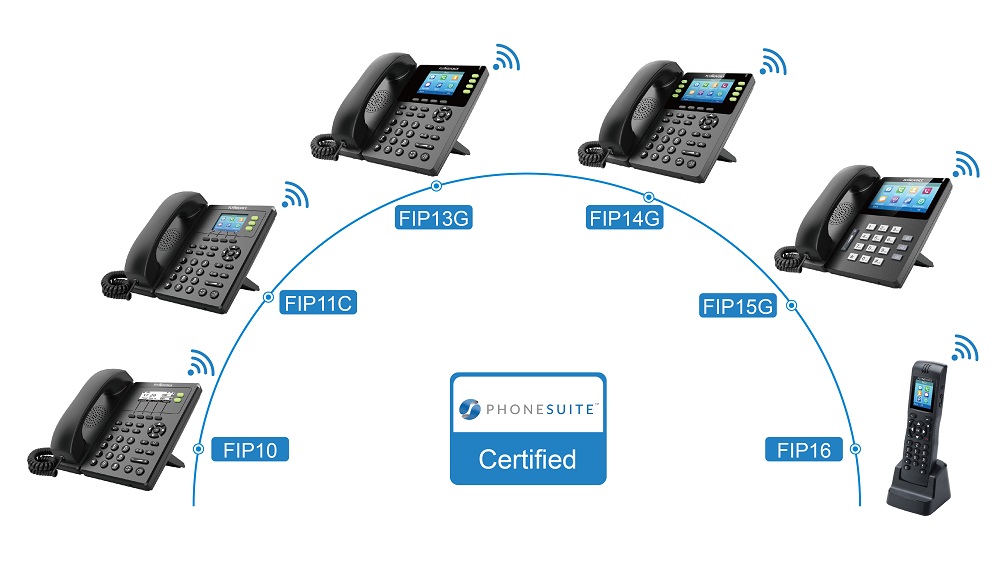 About Flyingvoice
Flyingvoice is a leading supplier of communication terminal devices and VoIP one-stop solutions, providing VoIP phones, ATAs, Gateways and Routers for business and home. We are aiming to empower small, medium and micro enterprises, solving the problem of "easy to buy but difficult to use" in network and communication, and committed to providing wireless IP office solutions with integrated voice and data for SMEs. For additional information, please visit www.flyingvoice.com, follow Flyingvoice on LinkedIn or Facebook.
About Phonesuite
As a leading Hotel PBX system provider for over 25 years, Phonesuite has continued to be 100% dedicated to the hotel industry. Their traditional and modern hotel communication solutions serve hotels with cloud PBX solutions and on-premise solutions that support both SIP phones and analog phones.