Flyingvoice Unveils Innovative SAS Solution: 3-Minute Rapid Enterprise Communication Deployment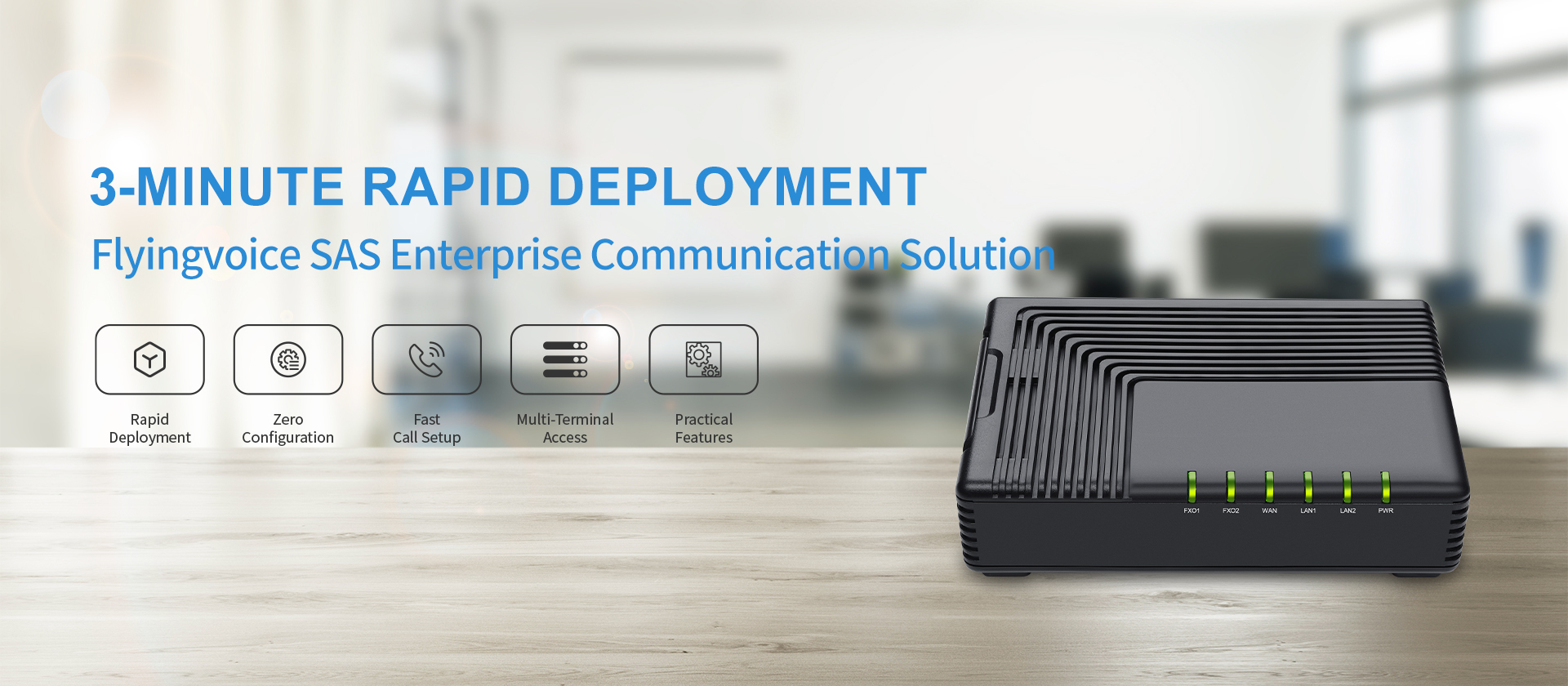 [Shenzhen, September 15, 2023] — Flyingvoice, a leading provider of communication solutions, is excited to announce the launch of its SAS (Stand-Alone Survivability) solution, offering a exceptional communication experience tailored to small and medium-sized enterprises (SMEs) and novice users. This innovative solution can be effortlessly deployed in just 3 minutes, providing users with unprecedented convenience.
In today's highly competitive business environment, the demand for efficient communication tools in enterprises is constantly growing. However, complex deployment processes often discourage businesses. Addressing this challenge, Flyingvoice's SAS solution stands out with an extremely simple deployment process. Users can complete system setup in just 3 minutes, without the need for complex technical knowledge or experience.
Key highlights of the SAS solution:
3-Minute Rapid Deployment
Whether you are an SME or a novice in the field of communication, the SAS solution offers an unparalleled rapid deployment experience. In a mere 3 minutes, you can have high-quality communication capabilities at your fingertips.
Designed for SMEs
The SAS solution is specifically designed for SMEs, taking into consideration their needs and challenges. Its aim is to reduce communication costs and enhance work efficiency.
Staying Connected
Dual FXO interfaces support PSTN access, ensuring that businesses can maintain connections with external telephone networks. Flyingvoice's SAS solution is tailored for SMEs, offering high-quality communication services while minimizing communication costs. The SAS solution can effortlessly adapt and provide a simple, reliable, and stable communication service.
Flyingvoice has always been committed to providing outstanding communication solutions to its customers and continues to innovate to meet evolving market demands. The release of the SAS solution reaffirms our commitment to delivering exceptional communication tools to businesses, helping them achieve growth and success.
For more information about the SAS solution, please visit our website or contact our customer support team.
About Flyingvoice:
Flyingvoice is a leading provider of VoIP communication terminal equipment and one-stop solution services, offering products such as VoIP phones, adapters & voice gateways, routers, and intercom terminals suitable for both enterprises and homes. Flyingvoice is your professional and reliable partner.