Revolutionary New Releases: Flyingvoice Launches Game-Changing Audio and Video Intercoms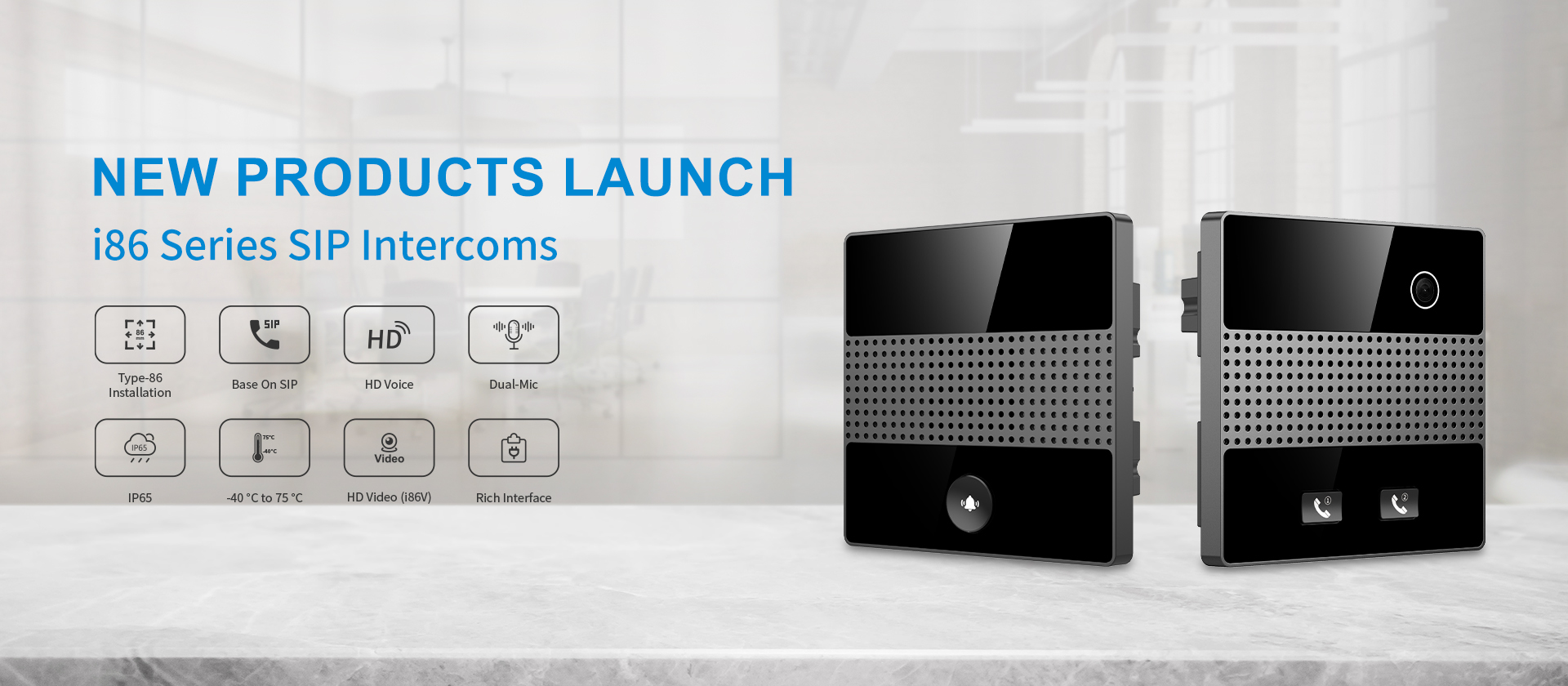 Shenzhen, China - July 18, 2023 - In a monumental industry move, Flyingvoice, the esteemed provider of communication solutions, officially unveils five groundbreaking products. These highly anticipated additions encompass a range of advanced intercom solutions, poised to revolutionize the way we communicate.
With an unwavering commitment to innovation and technological advancement, Flyingvoice ushers in a new era of communication possibilities with this remarkable product launch. The spotlight shines brightly on their exceptional audio and video intercoms, meticulously designed to set new industry standards for secure and efficient communication.
Notable among the releases are the i86-01, i86-02, and i86-03 SIP Audio Intercoms, meticulously engineered to seamlessly operate in both indoor and outdoor environments. These devices boast an IP65 waterproof certification and a dust-resistant design, ensuring unrivaled performance in any setting. With a host of features, including audio intercom capabilities, configurable buttons, and broadcasting functionalities, these solutions cater to the diverse needs of various industries such as hotels, nursing homes, schools, hospitals, apartments, and more. They provide a reliable and secure voice intercom solution that enhances security and communication capabilities.
Flyingvoice also presents the i86V-01 and i86V-02 SIP Video & Audio Intercoms, which differ from the previously mentioned i86-01, i86-02, and i86-03 models by offering built-in cameras. Designed in a standard type-86 size, these intercoms seamlessly fit into standard type-86 bottom boxes. With an impressive operating temperature range of -40 to 75℃, they are well-suited for deployment in both indoor and outdoor scenarios. Equipped with a built-in 1080p HD camera and a speed dial button, these devices enable effortless one-touch calling and video linkage. Their versatility makes them an ideal solution for a wide range of industrial use cases, providing users with efficient communication and robust security features. Get ready to revolutionize your communication experience with the advanced i86V series from Flyingvoice.
Flyingvoice remains at the forefront of innovation in communication solutions, steadfast in its commitment to advancing the industry. The momentous launch of these five groundbreaking intercom products underscores their dedication to delivering superior solutions that redefine communication, effectively meeting the diverse needs of businesses and individuals.
Stay tuned for more updates as Flyingvoice paves the way for an exhilarating new era of communication opportunities. Get ready to embrace a transformative wave of possibilities that will redefine the way we connect, collaborate, and communicate. The future of communication is on the horizon, and Flyingvoice is leading the charge with its innovative intercom solutions. Prepare to witness a revolution in how we interact and stay connected, as Flyingvoice continues to push the boundaries of communication technology.