Flyingvoice Unveils SR3000 and SR3000-lite: Advanced Wi-Fi 6 Wireless Router for Seamless Connectivity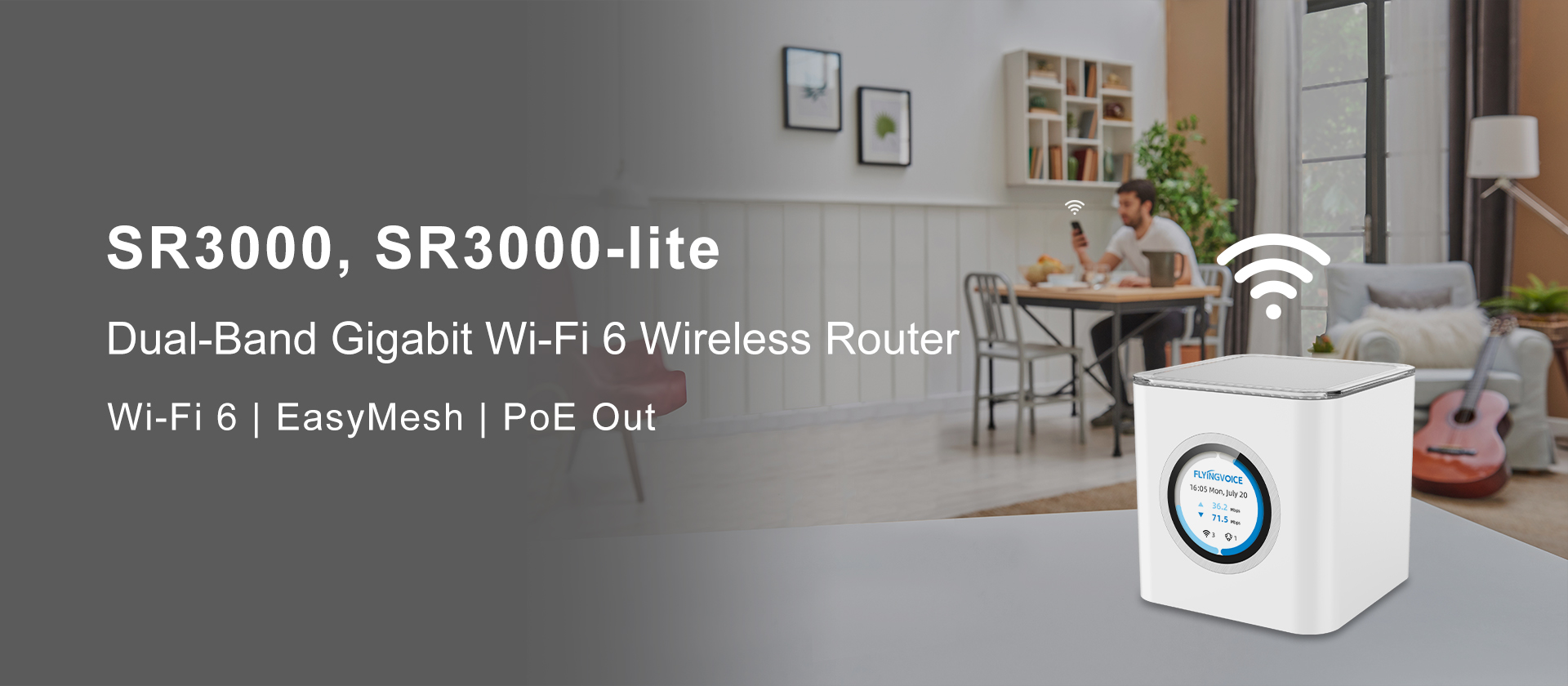 Shenzhen, China - 3 July 2023 - Flyingvoice, a renowned technology company, unveiled its latest offerings in the networking sector with the launch of two innovative products: the SR3000 Dual-Band Gigabit Wi-Fi 6 Wireless Router and the SR3000-lite Dual-Band Gigabit Wi-Fi 6 Wireless Router. These cutting-edge routers are designed to provide seamless connectivity and enhanced networking capabilities for homes and offices.
Sleek Design and Versatile Connectivity Options
The SR3000 Dual-Band Gigabit Wi-Fi 6 Wireless Router boasts a sleek and minimalist design, characterized by its simple white square appearance. Featuring a 1.7-inch circular touch LCD with a backlight, this router offers an intuitive display of network data, perfectly adapting to the needs of users in their homes or office environments. With integrated Gigabit network ports, FXS, and optional USB 2.0 ports, the SR3000 provides a versatile range of connectivity options to support various expansion functions. Additionally, it comes equipped with a built-in 2T2R MIMO antenna, enabling efficient Wi-Fi 6 support.
Enhanced Connectivity and Seamless Coverage with EasyMesh Support
One of the key features of the SR3000 is its compatibility with EasyMesh networking, enabling the extension of network coverage to encompass large households and support connectivity for up to 200 devices. By leveraging EasyMesh and Wi-Fi 6, users can enjoy the convenience of a single SSID for multipoint coverage, seamless roaming, and low-latency internet access throughout their entire living or working space. This advanced functionality ensures a smooth and uninterrupted online experience for all connected devices.
Seamless Integration and Clear Status Indicators
Accompanying the SR3000 is its counterpart, the SR3000-lite Dual-Band Gigabit Wi-Fi 6 Wireless Router. This router also embraces a clean and elegant white square design, blending seamlessly into any home or office environment. Equipped with an integrated WAN/LAN adaptive network port and a convenient WPS button, the SR3000-lite supports EasyMesh networking, facilitating the rapid expansion of network coverage as needed. To provide users with clear and intuitive information on mesh connection status, the SR3000-lite is equipped with Wi-Fi red and green indicators.
Enhanced Connectivity and Productivity
Similar to its counterpart, the SR3000-lite is powered by 2T2R MIMO antennas and supports Wi-Fi 6 technology. This enables seamless connectivity for up to 200 devices, ensuring multi-point coverage with a single SSID, as well as seamless roaming and low-latency internet access. Whether for personal or professional use, the SR3000-lite enhances the wireless office experience, enabling users to stay connected and productive with ease.
Flyingvoice continues to solidify its position as a leading provider of networking solutions with the launch of these two new products. The SR3000 and the SR3000-lite offer a perfect blend of sleek design, advanced features, and effortless connectivity. With their intuitive displays, comprehensive expansion ports, and support for EasyMesh networking, these routers cater to the evolving needs of modern homes and offices, empowering users with reliable and high-performance networking solutions.
About Flyingvoice
Flyingvoice is a leading supplier of communication terminal devices and VoIP one-stop solutions, providing VoIP phones, ATAs, Gateways and Routers for business and home. We are aiming to empower small, medium and micro enterprises, solving the problem of "easy to buy but difficult to use" in network and communication, and are committed to providing wireless IP office solutions with integrated voice and data for SMEs. For additional information, please visit www.flyingvoice.com, and follow Flyingvoice on LinkedIn or Facebook.
---
If you have any interest or questions, please contact our team (marketing@flyingvoice.com), thank you.