Flyingvoice & Yeastar Wireless VoIP Communication Solution
Background
Wireless communication is an indispensable part of our daily life in today's world. People use wireless networks for working, study and entertainment at anywhere - home, office, mall and bus.
Wireless communication requires no wiring, which is very suitable for people who move a lot during work. Based on wireless communication technology, Flyingvoice and Yeastar jointly launched a wireless VoIP communication solution, which highly meets the needs of enterprises for efficient and reliable wireless VoIP communication.
Requirements
Clutter free office space, enterprises need to change complicated analog wiring and build a wireless office.
The old office building is unable to extend the phone and network lines.
Some employees often move between different office areas due to work needs, and still need stable calling while moving.
Solution
Server Room
Deploy two Yeastar PBXs of the same model as hosts in the computer room and connect to the user's core network to provide IP voice services. And enable the dual-system hot standby function to achieve main and standby redundancy.

Workspace
Deploy the Flyingvoice IP phone on the office desk, connecting to the wireless network and register it to Yeastar PBX.

Business on-the-go
For those who need to walk around the indoor workspace, or outdoor warehouse and guard room, they can be equipped with Flyingvoice portable IP phone, and the phone can be registered to Yeastar PBX via wireless network.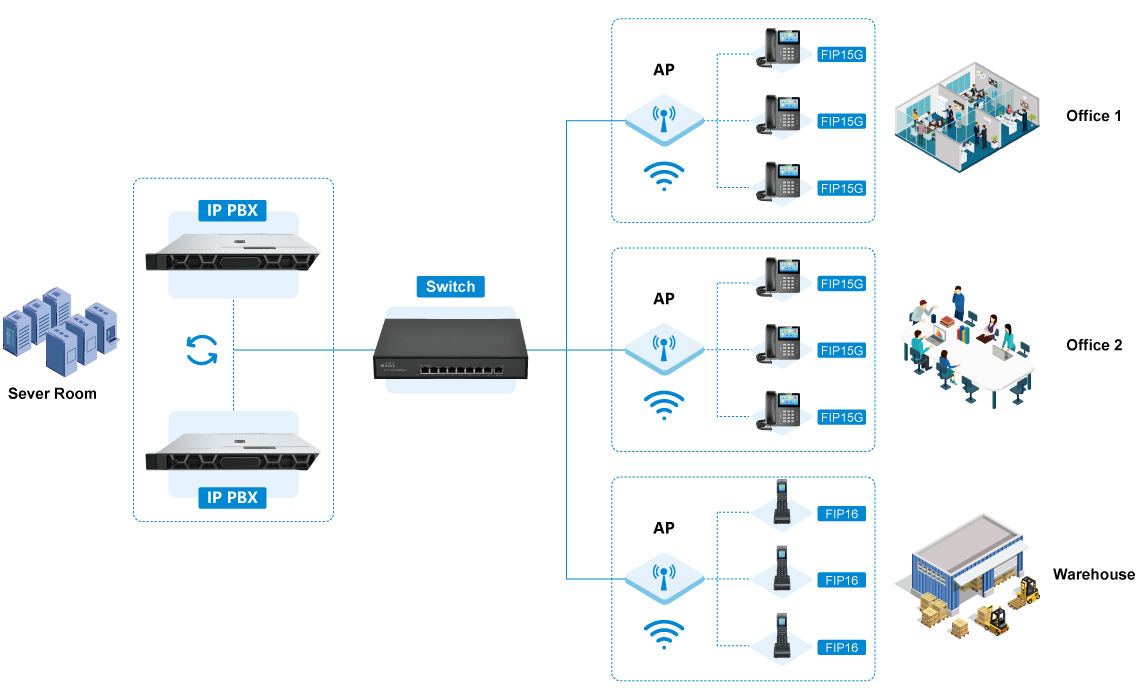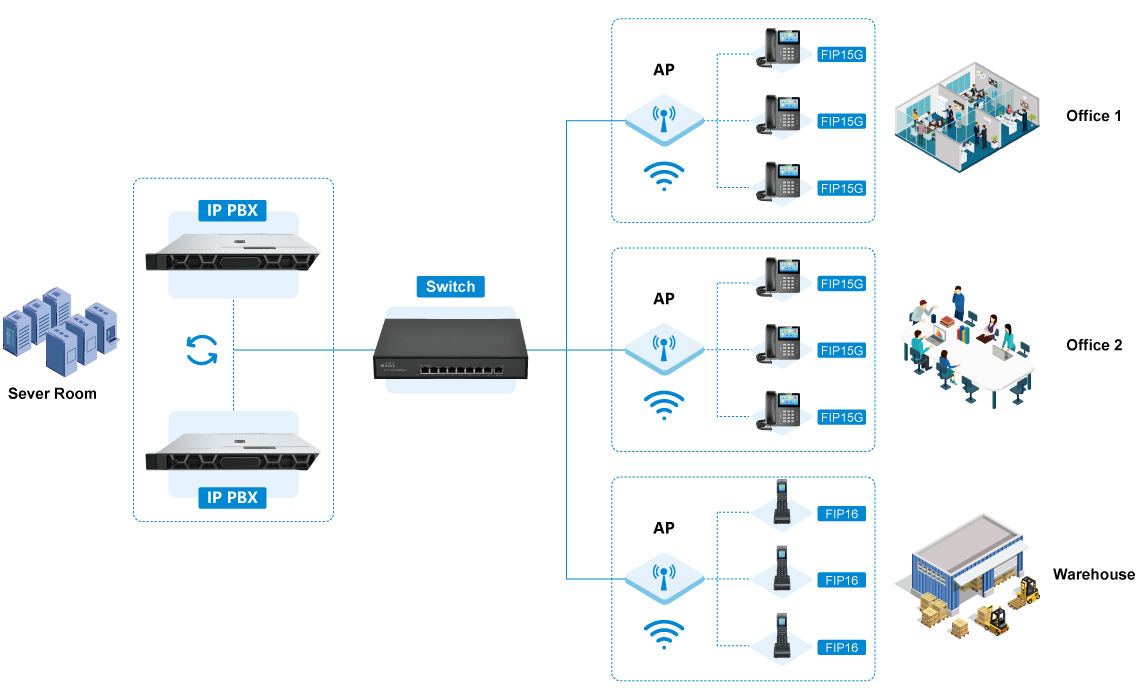 01

Flyingvoice IP phone supports wireless connection, which requires no wiring and can be deployed flexibly. Ensuring a clean and tidy office area.

02

All Flyingvoice IP phones support HD Voice (Opus and G.722 Wideband Codecs). With powerful sound-processing technology, they can provide users clear and stable voice calls.

03

The portable IP phone FIP16 supports IEEE802.11k/r, achieving fast roaming between APs. Enjoy a truly seamless calling experience while moving around.

04

FIP16 supports 2.4GHz & 5GHz dual-band Wi-Fi to ensure the Call stability. With built-in 4000mA high-capacity battery it can support 10 hours talk time and 12 hours standby time.

05

Yeastar entry-level and enterprise-class PBXs can meet users' needs for different capacities. And the wireless connection makes phone's scalability easier.

06

Flyingvoice IP phones are compatible with Yeastar PBX's to transmit voice over IP. Together they can provide rich voice communication functions such as call recording, conference call, and one-click calling, etc.