VoIP Solution for Nursing Home
Background
There were 727 million persons aged 65 years or over in the world in 2020. The number of seniors is projected to be 1.5 billion in 2050. The aging population promotes the growth of nursing homes. As an important tool for seniors to keep connected with friends and family and receive help during an emergency, the phone system in nursing homes needs to be safe, stable, easy-to-use and functional.
Requirements
1. HD voice quality is needed to provide loud and clear phone calls for seniors.
2. Phones need to be senior-friendly and support one-click calls.
3. Phone system should be reliable and stable.
4. API interfaces are required to integrate with MIS, GPS systems and other service platforms.
Solution
This solution is based on Flyingvoice IP phone and takes Yeastar IP PBX as an example. Both of them adopt mature and stable network communication technology, and are cost-effective.
1. Deploy two Yeastar IP PBXs in the server room for dual-system Hot Standby, and the configuration of the two servers is synchronized.
2. Phones of the front desk receptionists can connect to the Internet via a network cable or Wi-Fi, and connect to the IP PBX as extensions.
3. Deploy Flyingvoice IP phones in the rooms, nutrition and health monitoring areas, and connect them to the IP PBX via a public network.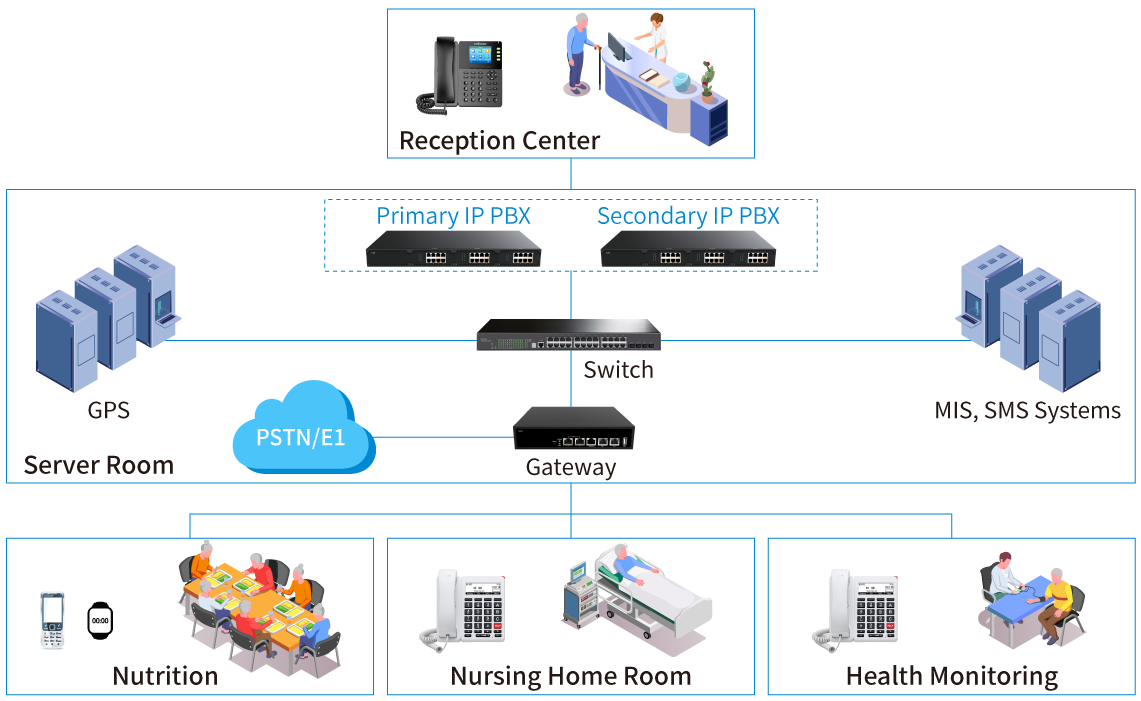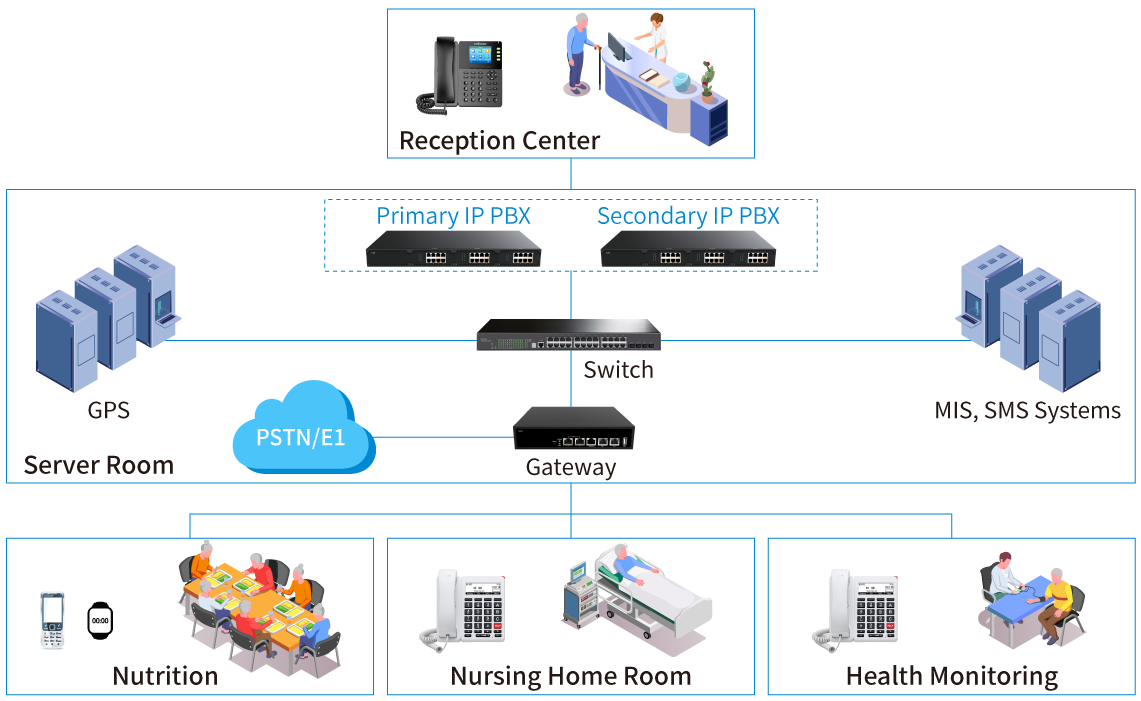 01

FIP12WP is equipped with a 3.5-inch large screen, and the interface is easy to use and navigate. Its buttons and numbers are twice as big as the normal size that is easy to see and operate for seniors.

02

Phones adopt echo cancellation technology to achieve high-volume full-duplex hands-free call, helping seniors hear more clearly.

03

With a HELP button, FIP12WP allows seniors to make a quick one-click call or off-hook call When an emergency occurs.

04

FIP12WP uses TCP/IP network connection, and the phone system can be updated without changing the original network, reducing deployment costs and time.

05

FIP12WP supports wireless connection and can be flexibly deployed according to seniors' needs, which is very convenient.

06

Dual-system Hot Standby is supported to ensure stable system operation. When the primary IP PBX goes down, the secondary IP PBX can automatically and instantly take over.

07

The phone can also support Hot Standby to ensure its stable operation and prevent the safety issues of the seniors caused by the unavailability of the phone.

08

The phone system provides API interfaces to integrate SMS, MIS, GPS and other systems, realizing the management of various data of seniors and location tracking.