VoIP Solution for Academic Campus
Background
As the scale of the various campuses expands unceasingly, the traditional phone system is unable to meet the communication requirements among staff members, teachers and students. Flyingvoice IP phone is the ideal choice for campus that requires advanced VoIP features, wireless connection, HD voice, and easy deployment. You can easily install them to achieve internal communication among administration building, teaching and learning building, dormitory, catering and guard room. Besides, Flyingvoice VoIP adapter & gateway can work with existing analog phones.
Requirements
1. Phones need to be deployed in office, classroom, dormitory, restaurant, guard room and other places to achieve internal communication.
2. The original important outside number still needs to be used.
3. Support enrollment consultation and other services when receiving calls.
4. Support the advanced features such as conference, recording, transfer and speed dial, etc.
5. Compatible with existing analog phones.
Solution
Flyingvoice phone support auto-provisioning and zero-configuration, it is plug and play.
With the Wi-Fi connection feature, deploy the phone will be easier and quicker, you can place the phone anywhere.
PBX enriched the phone's function and connect the PSTN network and the campus network together, so that the phone at the office, classroom, dormitory, restaurant, guard room, and other places can communicate with each other.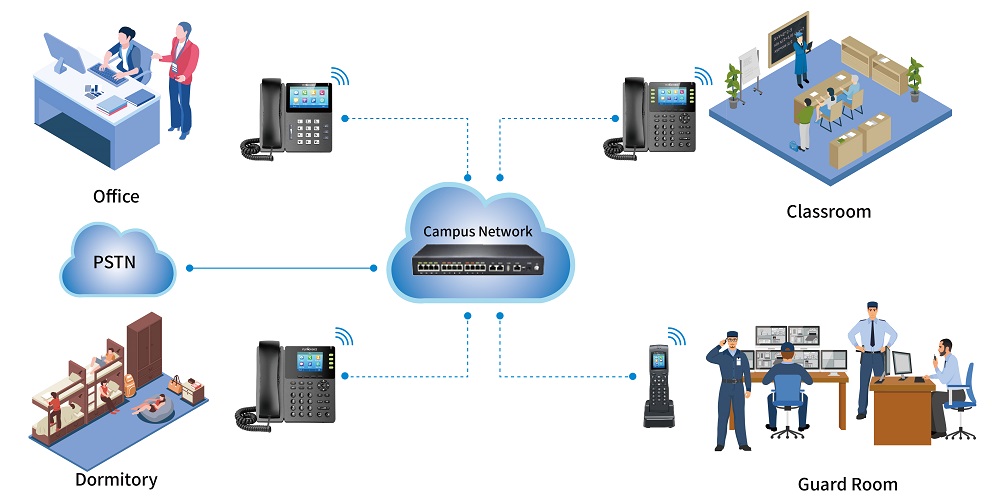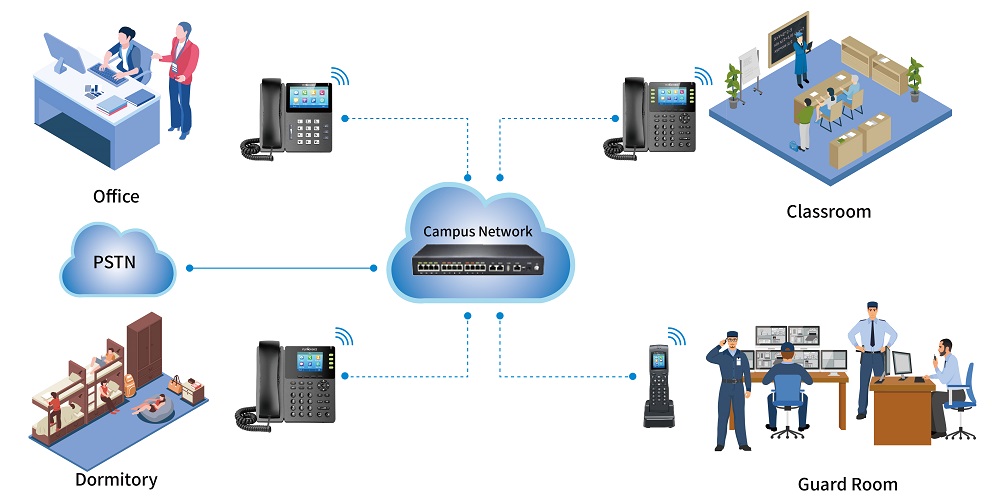 01

Wireless Connection: All Flyingvoice IP phones support wireless connection, which requires no additional wiring.

02

Unique AP Mode: Flyingvoice desktop IP phones can work as AP to transmit WiFi signal to connect with additional devices around it.

03

Fast Roaming Function: The portable FIP16 supports fast roaming to ensure seamless calls while moving around.

04

Free Internal Calls: All the extensions in the campus network can make free calls to each other, reducing communication costs.

05

Rich Phone Features: Flyingvoice VoIP solution also supports advanced features such as HD Voice calls, Call recording, Call transfer and Speed dial.

06

Simple Maintenance: The FACS management system supports unified management and batch deployment.