Introduction
Flyingvoice IP652 which has 5 lines is an advanced business VoIP (Voice over Internet Protocol) phone that provides voice communication over an IP network in the everyday business environment. It offers high voice quality HD handset, HD speaker and HD codec (G.722). The built-in 20 multi-functional keys for programmed as the IP-PBX features like speed dial, BLF (Busy Lamp Field), shortcut key, Call Pickup, and Call Park, and the five dual-function keys below the LCD will help you to use the phone easily. The IP652 can support up to 6 expansion modules (EXP40, the expansion modules of Flying Voice, which has 40 multi-functional keys).
Moreover, The IP652 has the rich external interfaces including PoE (Power over Ethernet), headset and expansion module ports for connecting to EXP40.
Overview
2.1 Appearance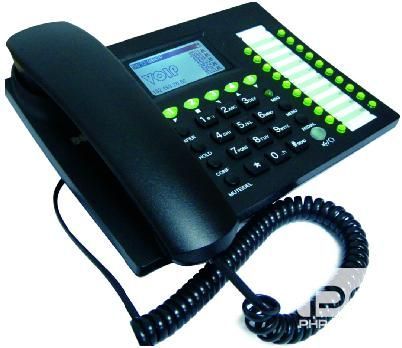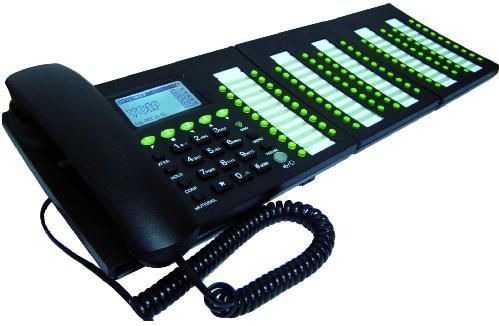 2.2 Key Feature
Five dual-function keys which can be used as line keys and softkey buttons. Support 20 multi-functional keys can be used as speed dial button, BLF (Busy Lamp Field), shortcut key (Phonebook, Call History, Text Message, Volume+, Volume– and Login/Logout), Call Pickup, and Call Park. Support up to 6 expansion modules with 40 multi-functional keys, the function of the multi-functional is the same as the multi-functional keys of IP652.
2.3 Interfaces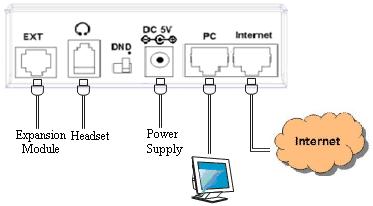 2.4 Applied Environment
Operation Temperature: 0~50 Degree C
Storage Temperature: -25~ 85 Degree C
Relative Humidity: 10%~90% No Condensing
Shock: Up to 75cm (30 inches) `Drop upon Package

2.5 Codec and Voice Features
The IP652 supports 4 codec: G.711 (A-Law, U-Law), G.729A/AB, G.723 with 5.3 kbps and 6.3 kbps, and
G.722 (HD). The IP652 supports VAD (Voice Active Detection), CNG (Comfort Noise Generation), AEC, ANC (Automatic Noisy Cancel), AGC (Automatic Gain Control) and adaptive Jitter buffer.

2.6 Call Features
5 lines, Call Waiting, Auto Answer, Music on hold, Caller ID and call waiting ID, 3-way Conference, Call Hold, Call Forwarding, Call Mute, Delayed Hotline , Redial, Call Transfer: blind transfer and attended transfer, Speed Dial, BLF, Pick up, Call Park, Dial Plan, Phonebook, Black List, MWI, SMS, DND, Full-duplex Speakerphone, Call log: redial list, answered calls and missed calls,
Volume Adjustment: Handset/Headset, Speaker and Ringer
DTMF Relay: In-band, Out-band (RFC2833) and SIP INFO
2.7 Management
Menu Configuration, SNTP Time Synchronization, Daylight Saving Time, Alarm Clock, Password Reset, Web access management, Local and Remote Syslog (RFC3164), Factory Default, Firmware Upgradeable, Web Management Interface, Multi User Level, SNMPv2, TR069, Auto Provisioning: TFTP (including option 66), HTTP and HTTPS

2.8 Applications
MAC Address Cloning, VPN: PPTP and T2TP, DMZ, Direct IP to IP calling, IP conflict detection, Built-in
NAT Router, DHCP Server and Client,
Layer 2 QoS: 802.1Q/VLAN ID and 802.1p PRI
Layer 3 QoS: SIP QoS, RTP QoS and Data QoS
SIP proxy redundancy: dynamic via DNS SRV, A records
NAT Traversal: Static NAT Route and Traversal by STUN
Support PoE complies with IEEE802. with3af (optional)

2.9 With Expansion Module(EXP 40)

This picture shows IP652 connect to one EXP40.

This one shows IP652 connect to two EXP40.

This one shows the IP652 fix to one EXP40 with four screws, the

iron is used to indicator up.
LCD Screen
The IP652 has a special 128*64 pixel customized LCD. The LCD transmits the main information to customer, such as date, time, Internet IP address, line status and so on.
Below picture shows the LCD which is in standby:

Below picture shows the LCD which is in menu configuration: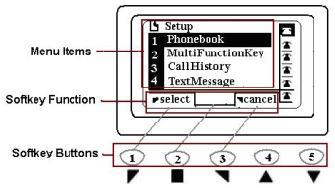 2.10 Web Configuration

The IP652 supports web configuration with MD5 authentication, and two level configurations which are admin mode and user mode. In admin mode user can configure all parameters, while in user mode user can only configure partly parameters with partly can't configuration such as VoIP settings.


Below picture is the login web: user enters the user name and password to login and start to configuration



Below picture is the IP652 web:

Explanation:
Place 1: Display the main information, such as firmware version, DSP version, Current Time, and configuration mode. Press Logout button to logout.
Place 2: Click navigation bar, and then many sub-navigation bars will appear in the place 4.
Place 3: Display the briefly explanation of the corresponding web; user can get help from it directly.
Place 4: Choose sub-navigation bars to open one configuration webpage.
Place 5: The configuration column.
Place 6: Parameters and settings value.