Upgrading Notice for IP542N--middle version between V2.0 and V3.0
FAQ ID:12585
User must be familiar with the ways to upgrade a new firmware for IP542N, however, please notice the firmware version when upgrading, IP542N has a middle firmware between version 2.0 and version 3.0. User can not upgrade the firmware directly from version 2.0 to version 3.0, because big differences exists between the two versions. When the firmware version is V2.0(201XXX), and you want to upgrade the new frimware V3.0(201XXX), please upgrade the middle firmware firstly and then upgrade the new firmware. Upgrading orders are as following:
1) Upgrade the firmware named IP542N_V2.0_201211091103_mid_L1.0.bin on IP542N's webpage;
2) Upgrade the newest firmware on IP542N's webpage.
Every time user finishes the upgrading, please login the webpage of your phone and have a check at the firmware version on phone's status page,like the following picture.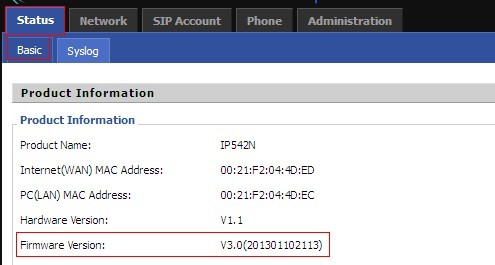 Make sure that you have upgraded the middle firmware successfully and then begin the following upgrading.
And the upgrading of each new firmware is the same with ordinary upgrading:
Example of upgrading for IP542N from V2.0 to IP542N_V3.0_201211081653_test_L1.0.bin :
1) Log in IP542N's webpage, and go to Administration-->Firmware upgrade page;
2) Click

to select the firmware file (IP542N_V2.0_201211091103_mid_L1.0.bin ) and click

, IP542N will finnish upgrading automatically and reboot.
3) Log in phone's webpage again and upgrade the firmware file( IP542N_V3.0_201211081653_test_L1.0.bin), steps are as 1)2).
Remember to upgrade firmware IP542N_V2.0_201211091103_mid_L1.0.bin firstly and upgrade firmwareIP542N_V3.0_201211081653_test_L1.0.bin,and please do not cut off the power when the phone is upgrading.
4) After you upgrade the fireware IP542N_V3.0_201211081653_test_L1.0.bin successfully, please make IP542N factory default firstly, and then upgrade the new firmware. Upgrading methods are the same.
Please notice do not power off when IP542N is upgrading, or phone may be damaged.
More details, please contact with technical support from Flying Voice.