Flyingvoice Receives Editor's Choice Award at CTIFORUM 2019
Beijing, China - December 20, 2019 - Flyingvoice has received 2019 CTIForum Editor's Choice Awards for FIP16 DECT phone in IP Phone category. CTIFORUM(www.ctiforum.com)is an annual forum that unites technology and business leaders from the firm and its vendor ecosystem to discuss innovation, future products, and partnership opportunities. The Editor's Choice Awards honor innovative technology products and solutions that materially contribute to ICT industry.Being one of the most renowned ICT product and technology competitions, the editor's choice awards are organized annually by CTIForum in Beijing, China.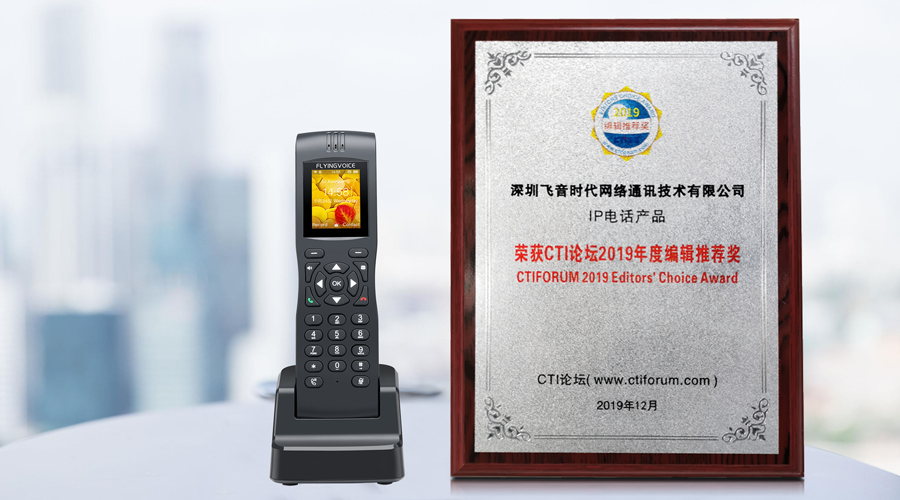 FIP16 is a cost-effective wireless handheld IP phone with stylish appearance and high performance. As long as you use FIP16 and stay within the wireless network coverage area, you can conduct real-time voice communication with teams in different locations. Not limited by telephone cables, power cables, and network cables.
FIP16 Features
1.Efficient communication: Deliver clear message in real time with HD voice quality.
2.Portable: Support 2.4G/5GHz dual-band Wi-Fi and dual-port Gigabit Ethernet, switch wire and wireless mode freely.
3.Large capacity battery: Provide a talk time of up to 10 hours and a stand time of up to 12 hours.Besides, FIP16 supports fast charging.
4.Easy-to-use: 1.8"color display with intuitive interface that provides quick and smooth operation.
5.High compatibility: Compatible with the mainstream IP PBX devices.
6.Advanced processing technology: To ensure the stable voice collaboration, FIP16 supports SIP proxy server redundancy, IP address conflict detection and multi-VLAN configuration, etc.

Flyingvoice awarded the 2019 CTIForum Editors's Choice Award, which is a recognition of Flyingvoice's efforts in focusing on improving product technology and product's user experience. As a professional wireless IP office solution provider, Flyingvoice has continuously promoted development in wireless IP office solutions for many years, and finally established its leading position in the industry. Flyingvoice applies wireless VoIP technology to IP phones, routers, adapters and other products. For providing much more comfortable user experience, Flyingvoice is using advanced processing technologies such as QoS, IP address conflict detection, server redundancy, and automatic noise reduction. The brand new FIP1X series IP phones has further consolidated the leading advantages of Flyingvoice in VoIP phone field.

About Flyingvoice
Established in 2007, Flyingvoice is a leading manufacturer of VoIP adapters, VoIP gateways, VoIP routers and VoIP Phones, which are widely used throughout the world and highly praised by international carriers, ITSP, ISP and company users.
Headquartered in Beijing, and with R&D centers in Shenzhen and Shanghai, we have more than 100 employees. All of our core team members are from top telecom enterprises and have over 10 years' experience in VoIP industry. Thanks to our in-house R&D team, we have got 3 invention patents, 7 utility model patents, 8 appearance patents and 40 software copyright registrations in total.