Meet Flyingvoice at SVIAZ
April 25, 2017, Flyingvoice attends the exhibition of SVIAZ of Russian international communications exhibition. Flyingvoice shows the latest generation of wireless VoIP solutions and communications terminal products, such as Gigabit Wireless VoIP Phone FIP21GWP and Portable Mini Wireless VoIP adapter ATA (1 FXS Port) -FTA1101, which novel wireless VoIP office solutions and new products attracted a lots of attention.

The SVIAZ -Moscow International Telecommunications Exhibition is co-sponsored and directed by the Russian State Duma, the Russian Federation Communications and Mass Media Department, the Russian Federation Ministry of Industry and Trade, the Russian Federation Communications Bureau, attracting participants from Russia, China, Germany, Japan, the United States, France, Korea, Finland, Belgium, Italy and Belarus, Ukraine, Armenia and other CIS countries exhibitors.The exhibition areas are more than 20,000 square meter, displaying the most sophisticated products and technologies of telecommunication fields.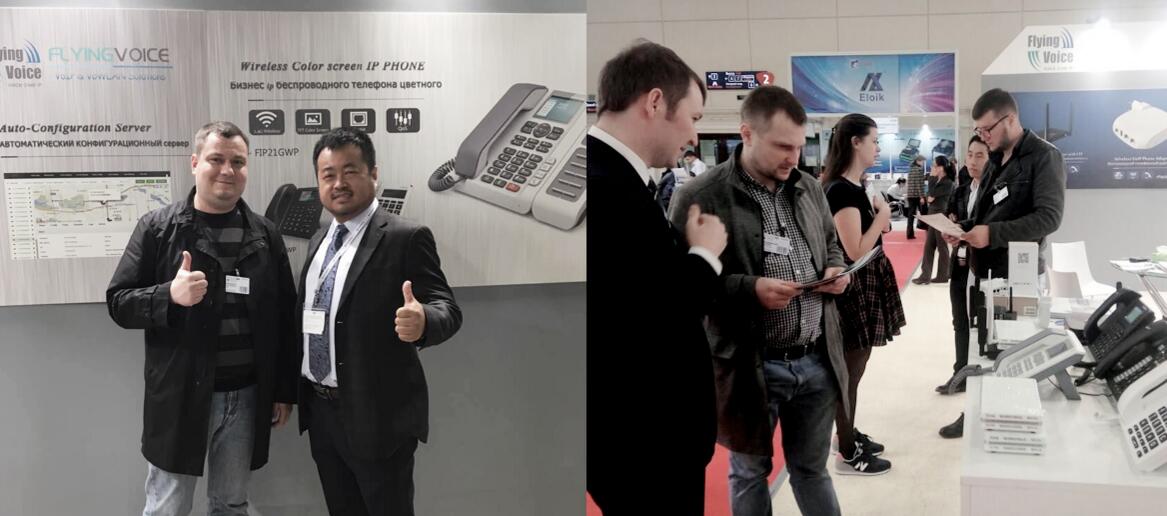 About Flyingvoice

Flyingvoice is a leading provider of WiFi IP Office solution, providing the most complete Wireless VoIP terminal solutions. Flyingvoice's products are developed and designed to perfectly meet the customer requirements, including Wireless IP PBX, Wireless IP phone, Wireless IAD and LTE-CPE, etc., which are widely applied among top international carrier market and enterprise market, such as China mobile, South Korea KT, SKT, KCT, Rostelecom Russia, Telecom Italia, etc.
Flyingvoice is always involved in R&D innovation and got one patent for invention and more than 10 patents for utility models in the VoIP field.


In the future, Flyingvoice will uphold the concept of continuous innovation, leading the rapid development of wireless and intelligent in the IP communication field.